WHAT IS THE GIVING CARD?
United Way of Siouxland launched the Giving Card program as a way to say "Thank You!" to community investors who donate $100 or more each year.
The Giving Card is a special discount card valid at dozens of participating merchants throughout Siouxland. 
HOW WILL I RECEIVE MY GIVING CARD?
Company Coordinators will distribute cards to any employee who donates $100 or more through the company's campaign. If you do not donate through an employer, please contact United Way and we will send you a card.
¿QUÉ ES LA TARJETA DONANTE?
United Way of Siouxland lanzó el programa Giving Card como una forma de decir "¡Gracias!" a inversionistas de la comunidad que donan $100 o más cada año.
¿CÓMO RECIBIRÉ MI TARJETA DE DONACIÓN?
Los Coordinadores de la Compañía distribuirán tarjetas a cualquier empleado que done $100 o más a través de la campaña de la compañía. Si no dona a través de un empleador, comuníquese con United Way y le enviaremos una tarjeta.
Giving Card Merchant Discounts valid January-December 2023
4 Brothers Bar & Grill (10% off any purchase; excludes alcohol; not valid on groups of 5+) Sioux City & Le Mars
A Step in Thyme Florals (10% off entire in-store purchase; one time only)
Absolute Screen Art (10% off any order under $300)
Ave Medical Laser Spa (10% off laser services)
Beth's Flowers on Fourth (15% off regular priced artwork and lamps)
Blue Bunny Ice Cream Parlor (10% off any purchase)
Bob Roe's Point After ($2 off a regularly priced Large or Jumbo pizza)
Book People (10% off regular priced items)
Burger King (Buy one get one free-WHOPPER; may not be combined with other offers)
Claussen's Menswear ($15 off a purchase of $75 or more of regular priced merchandise)
Firestone Tires (10% off regular priced services)
Godfather's Pizza ($4 off jumbo, $3 off lg., $2 off med., $1 off small) Sioux City & Le Mars
Habitue Coffeehouse & Cakes to Remember (10% off any purchase)
Home Maid Comfort ($25 off first cleaning)
Hotopp Jewelry & Gifts (15% off regular priced merchandise; some exclusions apply)
Hy-Vee (10% off any floral arrangement) Sioux City, So Sioux City & Le Mars  
IHOP (15% off total bill)
Jitters (10% off any menu item)
Joba's (20% off regular price merchandise – excludes collectibles, sale, & clearance items)
Kahills (20% off for you and one guest Mon-Sat lunch; excludes alcohol)
La Fiesta Charra (10% off any purchase)
Marriot – So Sioux City Riverfront (10% off best available rate)
Marshall's Taekwondo (One month free lessons)
M&M Copy Quick (25 cent colored copies on regular paper)
P's Pizza House (One free Coal Fire slice per visit) Dakota Dunes
Peachwave Yogurt (10% of any purchase)
Perkins Restaurants ($3 off any two adult entrees; excludes seniors' & kids' menus)
Pickerman's (5% off any combo meal)
Quality Lube Center ($3 off any regular priced oil change)
Reynolds Portrait Studio (20% off family & children's portrait packages, no session fee)
Sioux City Parks & Recreation (10% off a regular priced Lodge rental at Cone Park)
Speedy Lube (Free Traveler's Check-up)
Sport Clips ($2 off any haircut)
Square Tire (10% off labor, 5% off tires) Sioux City locations
Steinbeck's Pub ($5 off $30 purchase of food or drink)
Stoney Creek Hotel & Conference Center (10% off Hotel Gift Shop)
CW Suter Services ($10 off service calls)
The Studio Massage & Wellness ($5 off 60-minute massage; excludes Tuesdays; not valid with other discounts)
Thompson Dean Drug (15% off regular priced Gift Shop purchase)
Thompson (5% discount on service billed by the hour/max. $1,000)
Tires Tires Tires (Full service oil change for $19.99; some exclusions apply)
Turn Now Antiques (10% off purchases over $10)
Wheelhouse Bar & Grill ($2 off a Large Pizza/$3 off a Jumbo Pizza)
YMCA (Norm Waitt Sr. YMCA) (YMCA Membership - Waive Joiner Fee - $10-$25 Value; OR $5 off any Program Registration)
Giving Card Merchant Discounts valid January - December 2024
4 Brothers Bar & Grill (10% off any purchase; excludes alcohol; not valid on groups of 5+) Sioux City & Le Mars
A Step in Thyme Florals (10% off entire in-store purchase; one time only)
Absolute Screen Art (10% off any order under $300)
Ave Medical Laser Spa (10% off laser services)
Blue Bunny Ice Cream Parlor (10% off any purchase)
Bob Roe's Point After ($2 off a regularly priced Large or Jumbo pizza)
Book People (10% off regular priced items)
Burger King (Buy one get one free-WHOPPER; may not be combined with other offers)
Claussen's Menswear ($15 off a purchase of $75 or more of regular priced merchandise)
Godfather's Pizza ($3 off jumbo or large, $2 off med., $1 off small) Sioux City & Le Mars
Habitue Coffeehouse & Cakes to Remember (10% off any purchase)
Home Maid Comfort ($25 off first cleaning)
Hotopp Jewelry & Gifts (15% off regular priced merchandise; some exclusions apply)
Hy-Vee (10% off any floral arrangement) Sioux City, So Sioux City & Le Mars  
IHOP (15% off total bill)
Jitters (10% off any menu item)
Joba's (20% off regular price merchandise – excludes collectibles, sale, & clearance items)
Kahills (20% off for you and one guest Mon-Sat lunch; excludes alcohol)
La Fiesta Charra (10% off any purchase)
Marriot – So Sioux City Riverfront (10% off best available rate)
Marshall's Taekwondo (One month free lessons)
Massage & Body ($5 off any massage 30 minutes or longer)
M&M Copy Quick (25 cent colored copies on regular paper)
P's Pizza House (One free Coal Fire slice per visit) Dakota Dunes
Peachwave Yogurt (10% of any purchase)
Perkins Restaurants ($3 off any two adult entrees; excludes seniors' & kids' menus)
Pickerman's (5% off any combo meal)
Quality Lube Center ($3 off any regular priced oil change)
Reynolds Portrait Studio (20% off family & children's portrait packages, no session fee)
Sioux City Parks & Recreation (10% off a regular priced Lodge rental at Cone Park)
Speedy Lube (Free Traveler's Check-up)
Sport Clips ($2 off any haircut)
Square Tire (10% off labor, 5% off tires) Sioux City locations
Steinbeck's Pub ($5 off $30 purchase of food or drink)
Stoney Creek Hotel & Conference Center (10% off Hotel Gift Shop)
CW Suter Services ($10 off service calls)
The Studio Massage & Wellness ($5 off 60-minute massage; excludes Tuesdays; not valid with other discounts)
Thompson Dean Drug (15% off regular priced Gift Shop purchase)
Thompson (5% discount on service billed by the hour/max. $1,000)
Tires Tires Tires (Full service oil change for $19.99; some exclusions apply)
Turn Now Antiques (10% off purchases over $10)
Wheelhouse Bar & Grill ($2 off a Large Pizza/$3 off a Jumbo Pizza)
YMCA (Norm Waitt Sr. YMCA) (YMCA Membership - Waive Joiner Fee - $10-$25 Value; OR $5 off any Program Registration)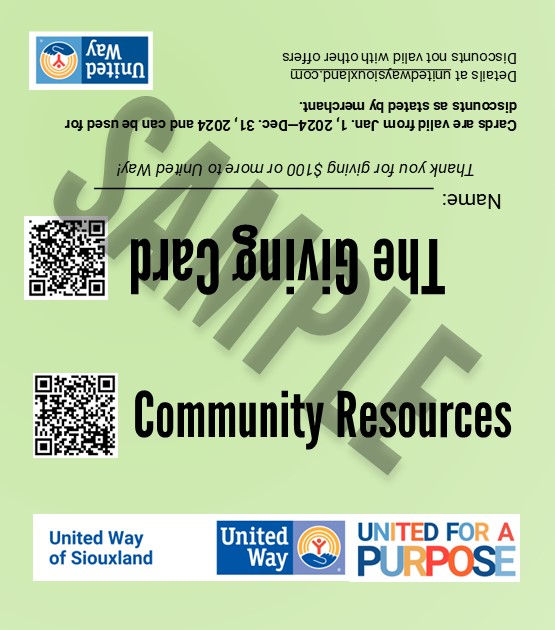 If your company would like to become a Giving Card Merchant, please call 712.255.3551